COVID-19
During the current emergency, group worship and meetings are cancelled or postponed. When the situation starts to improve, please check church websites or with organisers for their ongoing plans. More information about Farnham HERE


Churches Together E-Newsletter
April / May 2020 Special Edition
Unprecedented

We endure ongoing Lockdown – and face unprecedented situations and challenges, personal to each one of us. We are wholly aware too of other people's unprecedented difficulties and challenges. But we see in people's responses great courage and self sacrifice way beyond a call of duty. We try to help each other personally and we try to support those on the front line — Farnham Assist, Farnham Foodbank, Christian Aid and our local Farnham and Villages Coronavirus Helpline.

Some of us can help directly, some help with donations. We all want to help.

At Pentecost 2000 years ago, the events were unprecedented and the challenges life-changing for the Apostles and others. May we be filled with the Holy Spirit. A verse from St.Francis of Assisi's famous prayer says:

"Make me a channel of your peace. Where there's despair in life, let me bring hope. Where there is darkness, only light, and where there's sadness, ever joy."

Blessings
Michael McDonnell
Chair of Churches Together in Farnham

An E-Newsletter is published each month, including upcoming activities and an event listing. To "READ ALL ABOUT IT", please CLICK HERE to download your copy.
"Thy Kingdom Come"
"Thy Kingdom Come" is a global prayer movement that invites Christians around the world to pray from Ascension to Pentecost (21st May to 31st May) for more people to come to know Jesus.

It is not too late to get involved. You can download resources including videos from www.thykingdomcome.global/

There are different prayer resources for a number of traditions on www.thykingdomcome.global/resources/key-resources-2020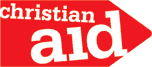 Christian Aid Week — On-line Service
On Sunday 10th May, Christian Aid Farnham published their Virtual Service for Christian Aid Week. Don't worry if you missed it on the day; the service remains on You-Tube for you to enjoy. The service was prepared by local churches.
Please use this link:
www.youtube.com/watch?v=Qxn-g4pBWGQ&feature=youtu.be
PLEASE DONATE GENEROUSLY TO CHRISTIAN AID
— DETAILS HERE.

Coronavirus Helpline Open in Farnham
FARNHAM AND VILLAGES HELPLINE — If you need help during the COVID-19 emergency and have no access to family, friends and neighbours, call the Farnham Co-ordination Centre on 01252-745446 (9:00 a.m to 8:00 p.m) or e-mail help@farnhammaltings.com. There is a recorded message on the phone line outside hours.
The helpline was announced by Farnham Town Council on 26th March and has been established in conjunction with Farnham Herald and The Maltings.
More information is available HERE.
You can view or download the Farnham Helpline Leaflet from the link below:

Please consider giving a copy of the leaflet to a neighbour who may need it.

Message to Volunteers and Supporters
from June Trantom, Manager of Farnham ASSIST
On 7th April, June Trantom wrote to volunteers and supporters to thank them for their continuing support for the older folk of Farnham. Farnham ASSIST is now working as part of the Farnham and Villages Coronavirus Community Hub (Helpline available on 01252-745446).
June reminded supporters that they can donate financially through the Farnham Assist website (see below) - or by cheque or bank transfer (please see June's message - link below - for bank details).
Download June's Message — click HERE
(PDF format file size 52,746)
For the Farnham ASSIST web-site — click HERE
British & Irish Church Leaders united
in response to Covid-19 pandemic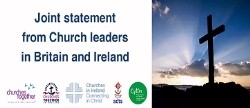 At the start of Holy Week, as Christians follow in the footsteps of Jesus as the events that lead to Good Friday unfold, followed by the hope of Easter Day, leaders of churches throughout the British Isles have issued the following statement and call to continued prayer as we face the Covid-19 pandemic.

They write:
"God's world is in the midst of an unprecedented crisis. In the nations that make up Britain and Ireland the Covid-19 virus continues to affect people at an alarming rate, health services along with many of our institutions and organisations, both local and national, are under extreme pressure and people are getting used to living in a very different way, many in extreme isolation. As with all such crises, there is a danger that the most vulnerable in society will be most badly affected.

"Christians the world over are entering an important time in the church year as we look to the events of Jesus Christ's death and resurrection. At the centre of our common faith are both the depths of despair and the heights of joy. In the Bible and in the songs and liturgies of the Church, we see Jesus entering fully into human suffering. In His rising again, that suffering is redeemed and transformed into hope and joy. After Jesus' death his disciples were afraid and all seemed lost and hopeless, but the risen Christ met them in their despair and restored hope through his victory over death. We pray that the world today might know this hope in place of despair.

"In the Book of Daniel, we read about God's people being taken into exile in Babylon. Daniel could not pray in the Temple in Jerusalem, but he continued to pray in exile – opening his window to face Jerusalem. Though he was on his own he joined with the prayers of the people wherever they were. Now we too are separated from each other physically, but when we pray in our homes we join in with this ancient tradition of our home as a place of prayer. Wherever we are, whenever we pray, when we speak and think of Christ, there he is in the midst of us. We join our prayers with all those who pray in our own churches and communities and around the world.

"As church leaders from across the many and varied churches of these Islands we urge all people to join us in prayer this Holy Week and Easter; to pray for those who suffer, those who face untimely death and all those who care for them; to celebrate our common faith at a difficult time; to help and support our neighbours in need; and to observe all the safeguards in place to slow the spread of disease."
Our Prayer
"Loving God, in Jesus Christ, who died and rose again for our salvation, cast out the darkness of our anxiety, fear and mourning, enfold us in your love and give us joy and hope this Easter. Amen."
Full list of signatories is available HERE.

Churches Together in Farnham's
Walk of Witness
Good Friday 10th April 2020
Due to the current Corona virus pandemic, the 2020 Walk of Witness will NOT TAKE PLACE this year.

Back for Good Friday 2021.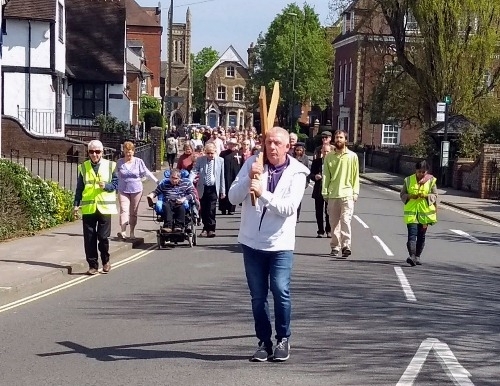 For a possible personal Walk of Witness at home — please CLICK HERE
To see the report and pictures from Farnham's 2019 Walk of Witness - please CLICK HERE

World Day of Prayer 2020
St.James' Church Rowledge
Friday 6th March 2020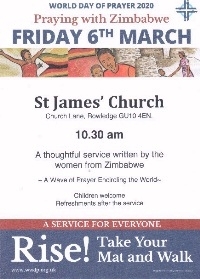 Farnham's service as part of the 2020 World Day of Prayer is being held at St.James' Church, Rowledge on Friday 6th March, starting at 10:30 a.m.
This year, the service has been prepared by the women of Zimbabwe. This will be a colourful service, for all to enjoy the music and quiet reflection, seeking love, peace and reconciliation — not only in our own lives, but also in the communities of Zimbabwe.
This is a Service for Everyone! Children are welcome.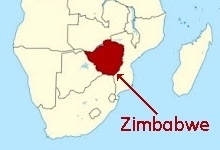 Do come and find out a bit more about this beautiful country, which has seen so much unrest in recent years. Discover what "Rise! Take Your Mat and Walk" means to Zimbabwean women.
For more information -
please CLICK HERE
m-k604
CTF Directory - May 2020 edition
The Churches Together in Farnham directory provides contact information for CTF Officers, Member Churches and Associated Organisations. Download HERE for local printing (PDF format; file size 39,890) or find out more on the "CTF Directory" page.
In Memoriam ...
Churches Together in Farnham record with sadness the death of dedicated and committed Christians who have played important roles in our support.
Please CLICK HERE to see recent reports.
f-k508