Churches Together E-Newsletter
November/December 2018 Edition
An E-Newsletter is published each month, including upcoming activities and an event listing. To "READ ALL ABOUT IT", please CLICK HERE to download your copy.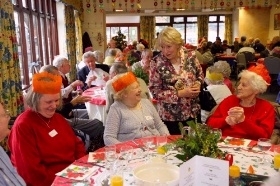 New Venue for Farnham Christmas Day Lunch
Churches Together Xmas Lunch at the newly refurbished Farnham Memorial Hall
1:00 p.m on 25th December 2018
The 2018 lunch is being held this year at Farnham Memorial Hall in Babbs Lane, West Street, Farnham. This is a new venue for the traditional lunch provided for Farnham people who would otherwise spend Christmas Day on their own.
The Memorial Hall is shining and brilliant after major refurbishment and face lift, with a kitchen Jamie Oliver would be proud of.
Invitations
Do YOU know someone who will be on their own on Xmas Day? To book a place please phone Michael on 01252 712600 or Mariola on 01252 716785.
Volunteers
Adult helpers (sorry, not children) please phone Joanna on 01252 737162.
Transport provided on request - no charge for lunch or transport. HURRY - Christmas is quickly approaching.

CTF Annual General Meeting
18th October 2018

CTF holds its A.G.M. each autumn. This year's meeting took place on the evening of Thursday 18th October 2018 starting at 7:30 p.m and ending by 9:00 p.m, giving those attending a chance to meet each other afterwards over a glass of wine.
The main business of the meeting was to receive brief updates on the wide range of Christian activities that support our local community through the year, and to meet some of those involved.
The A.G.M. was held at St.Mark's Church in Alma Lane, Upper Hale. The meeting agenda included:
The election of officers for the coming year;
A brief review of the main activities of CTF during the past year;
An opportunity for each of the many organisations associated with CTF to report on their activities; and
An opportunity for church leaders, particularly those new to the town, to share their thoughts.
You can download your copy of this year's A.G.M Minutes from the following link.

Please CLICK HERE for more about CTF ...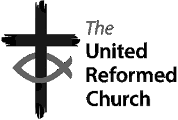 "The Spire Church" in Farnham
On 2nd September, Farnham's new Spire Church held its inaugural service at Farnham Methodist Church in Farnham town centre. The new church is a merger of Farnham United Reformed Church and the Methodist Church.
The name for the newly merged "Spire Church" was decided in May 2018, following nearly two years of detailed discussions.
For some time, The Spire Church will use both URC and Methodist church buildings, particularly during the planned major remodelling and refurbishment of the URC building.
Pilgrim Project. The major work in the URC building is being undertaken as the "Pilgrim Project". Consulatation, planning and fund-raising for the project has been in progress since mid-2017 and the work will take place in a sequence of phases.
More about The Spire Church and the Pilgrim Project here ...

Churches Together in Farnham's
Walk of Witness
Friday 30th March 2018
An opportunity for Farnham Christians to bear Witness on Good Friday
This year as usual, people gathered in The Hart at lunch-time on Good Friday to join the silent Walk of Witness around Farnham. The walk started at noon.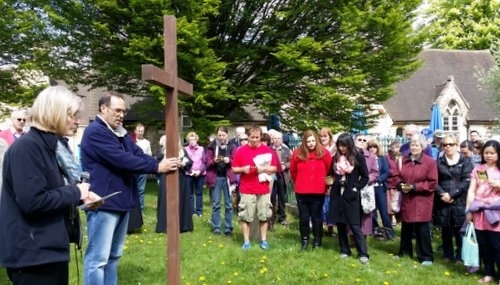 The walk proceeded along The Borough down South Street and up Downing Street, ending in St.Andrew's churchyard, where there will be a concluding prayer.
Poster available for download, please CLICK HERE - PDF format (file size 41,919 bytes)
For pictures of last year's Walk of Witness, please CLICK HERE.
Canon Heather Humphrey

It is with deepest sadness that we record the passing of Canon Heather Humphrey, beloved Priest of All Saints' Church Tilford, part of the United Benefice of The Bourne and Tilford. Heather died suddenly at The Vicarage on 23rd February.
The funeral was at the church on the afternoon of Wednesday 28th March. This was followed by tea in the Institute. The family attended the private cremation.
Our prayers are with Heather's family, congregation, clergy colleagues and all her other friends.
Revd.Jacqueline Drake-Smith - new Vicar of Wrecclesham
At 7:30 p.m on the evening of Tuesday 13th March 2018 at St.Peter's Church, Beales Lane, Wrecclesham, the Revd.Jacqueline Drake-Smith will be instituted as the new Vicar of Wrecclesham Parish. The Collation, Induction and Installation Service will be conducted by Bishop Andrew. Everyone is welcome.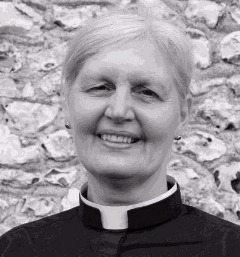 Revd. Drake-Smith comes from St.John The Evangelist Church in Merrow. She was previously a churchwarden at St.Francis' Church (Westborough Guildford), from where in 2012 she started two years of full-time training at Ripon College, coming to Merrow in 2014.
She was ordained 2015 and then served as the Assistant Curate in Merrow.
Jacqueline was born and educated in Guildford and has spent most of her life in the area.
Commenting on her move to Wrecclesham, Jacqueline said:
"I am delighted to be writing to you as your 'nearly-there' new Vicar. From when I first stepped into St.Peter's beautiful and warm space I knew there was something very special about the Spirit of this place, this parish. I continued to come along and pray and, each time I visited, I felt greater sense of wanting to know more. I look forward to sharing the joys and fun and the tougher not-so-fun times that inevitably come along on this winding road of faith. I feel very grateful, and trust that we have some exciting times to come, when we can build on the great things already happening at St.Peter's, build up our common life together – and do the best we can to flourish and grow and be a blessing for the community we serve and who bless us in return."
m-ic06
CTF Directory
The Churches Together in Farnham directory provides contact information for CTF Officers, Member Churches and Associated Organisations. Download HERE for local printing (PDF format; file size 38,316) or find out more on the "CTF Directory" page.
In Memoriam ...
Churches Together in Farnham record with sadness the death of dedicated and committed Christians who have played important roles in our support.
Please CLICK HERE to see recent reports.
ic02