Churches Together E-Newsletter
October / November 2019 Edition
Dear Friends:

I know that many of us would not say that going to an AGM is our idea of a good night out, but I am always encouraged when I attend the Churches Together AGM to hear how God is at work in our town. We are very fortunate that, in Farnham, Christians of various denominations can put aside any underlying theological differences and work together and prayer together for the good of the gospel and in an effort to bring the kingdom of God nearer.

As Psalm 133 reminds us: "Behold, how good and pleasant it is when brothers and sisters dwell in unity!"

It has been a pleasure to be the chair of Churches Together for the last year and I would like to thank the small but dedicated steering committee who serve churches together in Farnham. As we think towards the future, I would ask if others might put their hands up to join the steering committee so that the good work of Churches Together may continue for many years to come.

Every Blessing,
Hannah
(Revd Hannah Moore - Chair of Churches Together in Farnham)
An E-Newsletter is published each month, including upcoming activities and an event listing. To "READ ALL ABOUT IT", please CLICK HERE to download your copy.
Christmas Day 2019
Lunch Invitation and call for Volunteer Drivers
As in many previous years, Farnham's traditional Xmas Lunch took place on Christmas Day 2018, enjoyed by some 60 Farnham residents who otherwise would have spent the festive day on their own.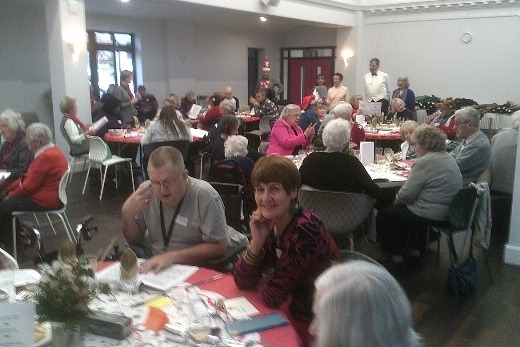 For 2019, once again, preparations are being made to welcome guests to the Memorial Hall off West Street. Diners will be treated to an excellent two-course meal including roast turkey with trimmings, Christmas pudding and wine.
If YOU would like a ticket, click the link below to learn who to call.
If you know SOMEONE ELSE who would benefit, please let us know.
If YOU could help on Christmas Day, particlarly with DRIVING guests to or from the event, please get in touch.
The meal starts at 1:00 p.m. The event is coordinated by Churches Together in Farnham. Full details below.

CTF Annual General Meeting 2019
CTF holds its A.G.M. each autumn. The 2019 A.G.M. takes place on the evening of Thursday 24th October at St.Mark's Church, Alma Lane, Upper Hale, Farnham GU9 0LT.
The meeting starts at 7:30 p.m and normally ends by 9:00 p.m to give those attending a chance to meet each other afterwards over a glass of wine.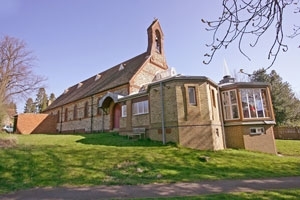 The meeting agenda will include:
Election of officers for the coming year;
A brief review of the main activities of CTF during the past year;
An opportunity for each of the many Christian groups and organisations which support our local community throughout the year to report briefly on their activities (reports are appended to the meeting minutes)
An opportunity for church leaders, particularly those new to the town, to share their thoughts.
Please come if you can. This is a public meeting, but of special interest to our town's churches, their congregations and the hundreds of people active in supporting the local community.
You can download a copy of the (draft) A.G.M Agenda from the following link.

Please CLICK HERE for more about CTF ...
Revd.Neil Fairlamb
New Priest for All Saints, Tilford

On the evening of Tuesday 15th May, the congregation at All Saints Church, Tilford warmly welcomed the Revd.Neil Fairlamb, who was licenced for his new ministry by the Archdeacon of Surrey, the Ven.Paul Davies.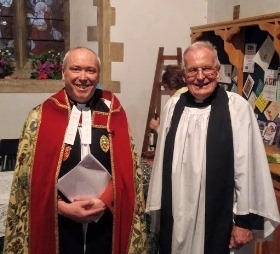 Neil replaces All Saints' much-loved parish priest Canon Heather Humphrey, who sadly died in February 2018.
Neil (on right of picture) and his wife Yvonne come to Tilford from North Wales where, since 2003, Neil served as Rector of Beaumaris and Ministry Area Leader of Bro Seiriol in the Archdeaconry of Anglesey.
Neil was ordained in the Diocese of Southwark as a non-stipendiary minister, before moving into stipendiary ministry in Wales, becoming Rector of Beaumaris in 2003.
Looking forward to his new appointment, Neil said:
"Yvonne and I have been very happy to have spent 20 years in Bangor Diocese. We married just as we started in Meirionnydd and have made many friends in the parishes and through wider ecumenical links including Ynys Enlli and the Roman Catholic Church's outreach activities from St.Beuno's and Loreto.

The new post in Surrey will be an opportunity to care for a traditional but outward looking village community and to part of a busy town ministry in Farnham. I am so fortunate to be in good health and to be given an opportunity to continue ministry into my 70s, sharing life's journeys with people - in solidarity with their joys and sorrows as we make our Christian pilgrimage together.

Yvonne and I are so grateful for everyone's support and prayers."

Frensham Baptist Fellowship Closes
Sadly, after 30 years of meeting in and serving the village and community of Frensham, FBF will be closing their doors at the Marindin Hall on Sunday 21st July 2019.
FBF began on 12th February 1989, initially meeting at the Church of the Good Shepherd, before moving to the Marindin Hall on 13th January 1991. They express their "gratitude to all who have contributed to the life of FBF and the blessing they have felt from so many who have passed through on life's journey".

Churches Together in Farnham's
Walk of Witness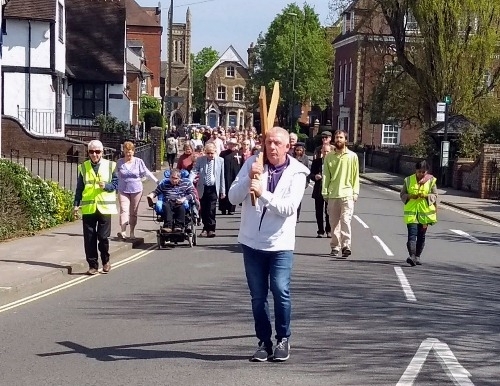 Good Friday 19th April 2019
Farnham Christians bear Witness on Good Friday
On a beautiful Spring day, many of the town's Christians gathered in The Hart at lunch-time on Good Friday, setting out in silence on the annual Walk of Witness around the town centre. The walk ended in St.Andrew's churchyard, where a short open-air service was held.
The full report with pictures is now available - please CLICK HERE

Churches Together in Farnham
Week of Prayer for Christian Unity
18–25th January 2019
As in previous years, Churches Together in Farnham marked the annual Week of Prayer for Christian Unity by daily prayers during the week, with a Service of Christian Unity on Sunday 20th January 2019.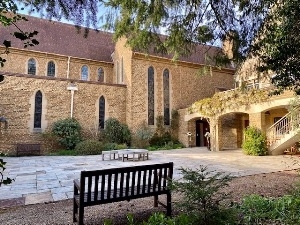 UNITED SERVICE ON SUNDAY 20TH JANUARY 2019
Around 60 Christians from churches across Farnham gathered for the annual Service of Christian Unity; held this year at St.Thomas-on-the-Bourne.
The service was led by the vicar of St.Thomas, Revd.John Morris, assisted by Bob and Margaret Skinner from Weybourne Community Church, Beth Davenport from the Spire Church, Revd.Hannah Moore of Badshot Lea and Hale, and Michael McDonnell from the Catholic Church of St Joan. The service material originated from the churches of Indonesia and the theme of the service was Justice.
A collection was taken to support Wycliffe Bible Translators; the service was followed by networking between members of different churches over a fine array of refreshments.
DAILY MORNING PRAYER MEETINGS 18th-25th JANUARY
The Week of Prayer included morning prayer meetings each day in churches across the town, including St.Joan's, Tilford Rd; the Quaker Meeting House in Tilford Rd.; St.Andrew's in Church Lane; St.George's in Badshot Lea; Farnham Vineyard in Union Rd; St.Thomas-on-The Bourne; and The Spire Church in South Street.
m-jb18
CTF Directory - October 2019 edition
The Churches Together in Farnham directory provides contact information for CTF Officers, Member Churches and Associated Organisations. Download HERE for local printing (PDF format; file size 37,566) or find out more on the "CTF Directory" page.
In Memoriam ...
Churches Together in Farnham record with sadness the death of dedicated and committed Christians who have played important roles in our support.
Please CLICK HERE to see recent reports.
f-ja07