Churches Together E-Newsletter
mid-January & February 2019 Edition
An E-Newsletter is published each month, including upcoming activities and an event listing. To "READ ALL ABOUT IT", please CLICK HERE to download your copy.

Churches Together in Farnham
Week of Prayer for Christian Unity
18–25th January 2019
As in previous years, Churches Together in Farnham plans to mark the annual Week of Prayer for Christian Unity by daily prayers during the week, with a Service of Christian Unity on Sunday 20th January.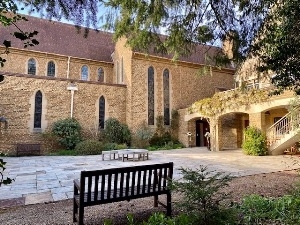 UNITED SERVICE FOR THE WEEK OF PRAYER FOR CHRISTIAN UNITY
This year at St.Thomas-on-The Bourne on Sunday 20th January 2019 starting at 6:00 p.m.
This is our annual opportunity to come together in worship and fellowship. Please take part and encourage everyone to join us.
The Revd.John Morris will host the United Service, which will be followed by bring-and-share refreshments.
DAILY MORNING PRAYER MEETINGS 18th-25th JANUARY
The Week of Prayer will involve joining existing weekday worship or prayers in churches across the town. Do join us for any of the morning prayer meetings.
Schedule of Daily Prayer Meetings:

Fri 18th Jan
9:30 a.m
Mass at St.Joan's, Tilford Rd
Sat 19th Jan
10:30 a.m
Meeting at Quaker Meeting House, 36 Tilford Rd
Sunday 20th January - United Service at 6:00 p.m - see above
Monday 21st Jan
8:30 a.m
Morning Prayer at St.Andrew's, Church Lane
Tuesday 22nd Jan
9:15 a.m
Morning Prayers at St.George's, Badshot Lea
Wed 23rd Jan
10:00 a.m
Unity Prayers at Farnham Vineyard, Union Rd
Thursday 24th Jan
10:00 a.m
Unity Prayers at St.Thomas-on-the-Bourne
Friday 25th Jan
11:30 a.m
"Pause for Thought" at the Spire Church, South Street
Christmas Day 2018
Food, laughter, gentleness, peace & goodwill
A wonderful lunch took place on Christmas Day for approximately 60 Farnham residents who otherwise would have spent this festive day on their own.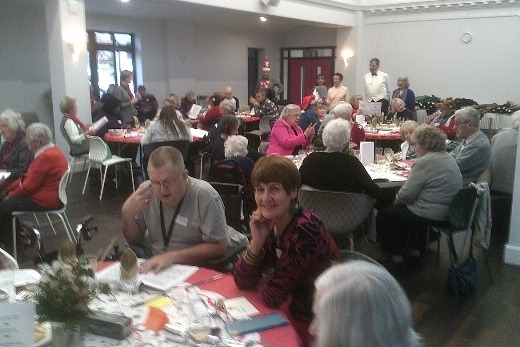 This year the celebration took place at a sparkling new venue, the recently refurbished Memorial Hall off West Street, where guests were treated to an excellent two-course meal including roast turkey with trimmings, Christmas pudding and wine.
The event was attended by both the Mayor of Farnham and Mayor of Waverley, who joined the carol singing and socialised with guests and volunteers. This annual celebration is made possible through the generosity and good will of our local community. This year, support was received from Bourne Show, Hale Carnival, Morgan's Butchers, Sainsbury's and Waitrose.
Our chef was Lou Snape and the lunch was coordinated by Churches Together in Farnham.

CTF Annual General Meeting
18th October 2018

CTF holds its A.G.M. each autumn. This year's meeting took place on the evening of Thursday 18th October 2018 starting at 7:30 p.m and ending by 9:00 p.m, giving those attending a chance to meet each other afterwards over a glass of wine.
The main business of the meeting was to receive brief updates on the wide range of Christian activities that support our local community through the year, and to meet some of those involved.
The A.G.M. was held at St.Mark's Church in Alma Lane, Upper Hale. The meeting agenda included:
The election of officers for the coming year;
A brief review of the main activities of CTF during the past year;
An opportunity for each of the many organisations associated with CTF to report on their activities; and
An opportunity for church leaders, particularly those new to the town, to share their thoughts.
You can download your copy of this year's A.G.M Minutes from the following link.

Please CLICK HERE for more about CTF ...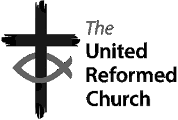 "The Spire Church" in Farnham
On 2nd September, Farnham's new Spire Church held its inaugural service at Farnham Methodist Church in Farnham town centre. The new church is a merger of Farnham United Reformed Church and the Methodist Church.
The name for the newly merged "Spire Church" was decided in May 2018, following nearly two years of detailed discussions.
For some time, The Spire Church will use both URC and Methodist church buildings, particularly during the planned major remodelling and refurbishment of the URC building.
Pilgrim Project. The major work in the URC building is being undertaken as the "Pilgrim Project". Consulatation, planning and fund-raising for the project has been in progress since mid-2017 and the work will take place in a sequence of phases.
More about The Spire Church and the Pilgrim Project here ...

Churches Together in Farnham's
Walk of Witness
Friday 30th March 2018
An opportunity for Farnham Christians to bear Witness on Good Friday
This year as usual, people gathered in The Hart at lunch-time on Good Friday to join the silent Walk of Witness around Farnham. The walk started at noon.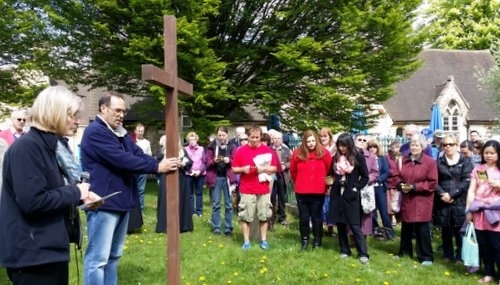 The walk proceeded along The Borough down South Street and up Downing Street, ending in St.Andrew's churchyard, where there will be a concluding prayer.
Poster available for download, please CLICK HERE - PDF format (file size 41,919 bytes)
For pictures of last year's Walk of Witness, please CLICK HERE.
Canon Heather Humphrey

It is with deepest sadness that we record the passing of Canon Heather Humphrey, beloved Priest of All Saints' Church Tilford, part of the United Benefice of The Bourne and Tilford. Heather died suddenly at The Vicarage on 23rd February.
The funeral was at the church on the afternoon of Wednesday 28th March. This was followed by tea in the Institute. The family attended the private cremation.
Our prayers are with Heather's family, congregation, clergy colleagues and all her other friends.
m-j111
CTF Directory
The Churches Together in Farnham directory provides contact information for CTF Officers, Member Churches and Associated Organisations. Download HERE for local printing (PDF format; file size 38,316) or find out more on the "CTF Directory" page.
In Memoriam ...
Churches Together in Farnham record with sadness the death of dedicated and committed Christians who have played important roles in our support.
Please CLICK HERE to see recent reports.
ic02