Churches Together E-Newsletter
August 2017 Edition
An E-Newsletter is published each month, including upcoming activities and an event listing. To "READ ALL ABOUT IT", please CLICK HERE to download your copy.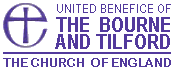 Revd.John Morris appointed Vicar Designate of The Bourne & Tilford
The Revd.John Morris has been appointed Vicar Designate of The Bourne and Tilford. He is expected to take up the appointment in October.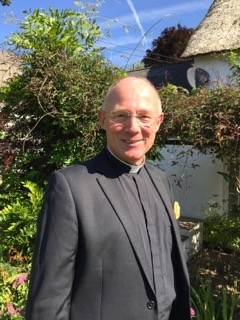 He began his career as a scientist at the Royal Radar Establishment, Malvern, before finding his vocation to the priesthood. Following ordination at Brecon Cathedral, he served curacies in Swansea and rural Herefordshire. His first incumbency was near Hereford.
He joined the Royal Navy as a Naval Chaplain and saw service throughout the world from Antarctica to the Arctic. In 1966, he passed Commando Training and served with the Royal Marine Commandos. Leaving the Navy, John was Chaplain to Lord Wandsworth College, moving on to join the Exeter Diocese, where he assisted in a variety of roles.
He is a keen singer, performing at the Three Choirs Festival, and with the Royal Scottish National Orchestra Chorus and the BBC Scottish Symphony Orchestra.
His is married to Gillian and has two grown up children.
Revd.John Morris succeeds Revd.Canon Karen Hutchinson, who in October 2016 was instituted as the new Archdeacon of Norwich.
Tribute to the life of the late Rosemary Stephens
We record with sadness the death, on 24th June 2017, of Rosemary Stephens.
Rosemary had a long and varied life, contributing to the ecumenical scene in Farnahm in the 1980s and 1990s. In 1986, she founded an ecumenical drama group, the Farnham Interchurch Players.
A Service of Thanksgiving for her life was held at Sway church on 30th June 2017. Please CLICK HERE to see a fuller account of her life and contribution.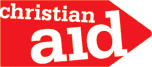 £18,500 collected in Farnham during Christian Aid Week 2017
Thanks to the generosity of the people of Farnham and the surrounding villages, Christian Aid Farnham raised over £18,500 during the week.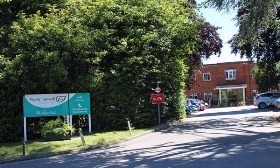 These donations ensure that Christian Aid can continue its work, offering vital assistance to refugees, while also working to eradicate extreme poverty, fight injustice, demand changes in the way tax is paid in poor countries (and at home) and highlight the effects of climate change on agriculture and the wider world.
On behalf of Christian Aid Farnham, Karen Few said: "I would like to say a very big thank you to everyone who gave so generously and a special thank you to the fantastic volunteers who faced very wet conditions out on the streets of Farnham delivering and collecting envelopes and those who collected donations in Farnham town on the particularly wet Saturday. Thank you on behalf of Christian Aid."

150th Anniversary Flower Festival
at Tilford Parish Church
A delightful medley of scents and colours filled All Saints Church, Tilford on 3rd/4th June for the Flower Festival marking the 150th birthday of the church.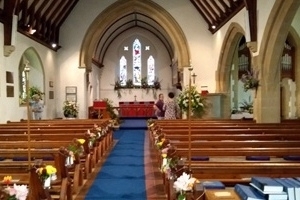 The Flower Festival attracted numerous visitors from near and far to join in the celebration. Entry was free, as was the tea with home-made cakes, but visitors generously donated some £500 towards the upkeep of this noted Victorian church.
Flower displays were prepared by individuals and also from many local organisations, including Waverley Abbey and All Saints schools, Tilford Village Nursery, the "Barley Mow" pub, Village Shop and the Rural Life Centre.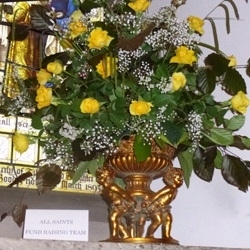 A magnificent variety of large floral exhibits were displayed throughout the church, including those from the Church Flower Group, Tilford WI, Tilford & Rusmoor Neighbours Sceme, Tilford Brownies, Tilford Bach Society, The Choir, the PCC, the Sacristans, Tilford Gardening Group, Tilford Art Group and St.Thomas-on-The Bourne.
Parish Priest Canon Heather Humphrey said: "What a wonderful opportunity this has provided for neighbours, who in some cases did not even know each other before, to become friends in the shared activity of making the church so beautiful."
The Flower Festival was organised by Helen Jonathan, who heads the Church Flower Group. She said: "The response from the village was extraordinary! They were all very different organisations, but the came together - people rally seem to enjoy collaborating." She was assisted as organiser by Jane Mathias, whose family have lived in Tilford since 1870 and who led the Church Flower Group for many years.
The Flower Festival was part of the programme of events commemorating All Saints' 150th anniversary and which runs throughout the year.
... full illustrated article here
... full anniversary event programme here

Queen's Award for Farnham ASSIST
On 2nd June 2017, Farnham ASSIST announced that they had been awarded the prestigious Queen's Award for Voluntary Services.
This is the highest award given to volunteer groups across the UK. It is awarded for outstanding achievement by groups who volunteer their own time to enhance and improve the lives of others.
In recognition of the Award, Farnham ASSIST's Manager, June Trantom and the former Manager, Brian Kurton had the honour of attending a Royal Garden Party at Buckingham Palace at the end of May (picture left).
Addressing the many volunteers, June said: "This Award represents all your hard work and support over a prolonged period of time, so very well done and thank you for being a vital part of this recognition. Many congratulations to everyone."
Farnham ASSIST is an organisation associated with Churches Together in Farnham (please see our "Associates" page). It is an independent Charity.

Good Friday Walk of Witness 2017
Christians bear witness in procession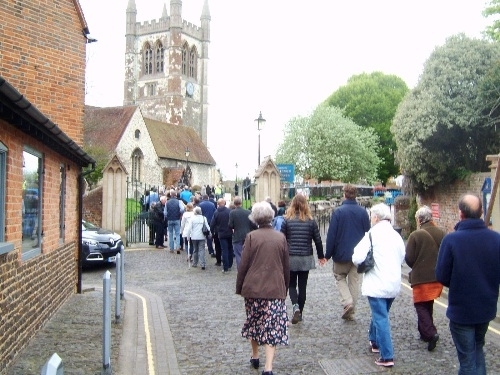 At 12 noon on Good Friday, the most solemn moment of the Christian year, which recalls the moment Jesus was nailed to the cross, the procession set out from the Upper Hart car-park. The event commenced with prayers led by Michael Hall of Farnham Pentecostal Church, and then proceeded in silence.
By the time the procession was moving up Downing Street it numbered around 200 - headed by Phoebe Thain, 14-year-old daughter of Rob Thain, Lay Minister at St.Andrew's – carrying a cross.
Once everyone had assembled in St Andrew's churchyard and sung a hymn, prayers were led by David Uffindell, Rector of Farnham, thus concluding the first hour of Jesus' time on the cross.
The Gospel accounts record Jesus finally dying at three in the afternoon, so further opportunities for reflection and prayer were offered until that time in St.Andrew's and elsewhere around town.
The procession was organised by Stuart Dakers on behalf of Churches Together in Farnham.
In Memoriam ...
Churches Together in in Farnham record with sadness the death of dedicated and committed Christians who have played important roles in our support.
Please CLICK HERE to see recent reports.
CTF Directory
The January 2017 Edition of the CTF Directory has been issued. This provides contact information for local churches, ministers and Christian organisations.
Copies available to those working with Churches Together in Farnham on application to the secretary. Also available for download by authorised persons — please refer to the "Contacts" page.
h427