Churches Together E-Newsletter
December 2017 Edition
An E-Newsletter is published each month, including upcoming activities and an event listing. To "READ ALL ABOUT IT", please CLICK HERE to download your copy.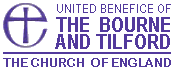 Revd.John Morris appointed Vicar of The Bourne & Tilford
The Revd.John Morris has been appointed the new Vicar of The United Benefice of The Bourne and Tilford. His Induction and Institution took place on the evening of Wednesday 18th October 2017 at the church of St.Thomas-on-The Bourne.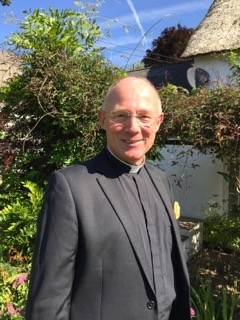 Revd.Morris began his career as a scientist at the Royal Radar Establishment, Malvern, before finding his vocation to the priesthood. Following ordination at Brecon Cathedral, he served curacies in Swansea and rural Herefordshire. His first incumbency was near Hereford.
He joined the Royal Navy as a Naval Chaplain and saw service throughout the world from Antarctica to the Arctic. In 1966, he passed Commando Training and served with the Royal Marine Commandos. Leaving the Navy, John was Chaplain to Lord Wandsworth College, moving on to join the Exeter Diocese, where he assisted in a variety of roles.
On 18th October, the Institution was conducted by Bishop Jo Bailey Wells and the Induction by Archdeacon Paul Bryer. At the following reception, John was welcomed on behalf of Churches Together in Farnham by Andrew Partridge.
Revd.John Morris succeeds Revd.Canon Karen Hutchinson, who in October 2016 was instituted as the new Archdeacon of Norwich.

150th Anniversary Art & Photography Festival
at Tilford Parish Church
A remarkable display of community talent has been revealed by a major exhibition of Art & Photography at All Saints, Tilford, Church over the last two weekends of September 2017. The broad-ranging show is open to the public over the two weekends, 23rd/24th September and 30th Sept/1st October.
The display featured the work of artists and photographers of all ages and abilities - from budding amateurs to experienced professionals and delighted visitors.
The festival was open to the public free of charge – donations invited - with refreshments, including tea, coffee and delicious home-made cakes served.
The Art Festival was part of the year-long celebrations of the 150th birthday of Tilford Parish Church. Following an organ recital, a Flower Festival, and a Village Lunch earlier in the year, the festivities continue with a visit from the Bishop of Guildford to All Saints Patronal Festival on Sunday 29th October, a Christmas Oratorio presented by Tilford Bach Society on Saturday 18th November and a Christmas Tree Festival on Saturday 9th December.
... illustrated art festival article here
... full anniversary event programme here

Queen's Award for Farnham ASSIST
On Sunday 1st October 2017, Farnham ASSIST was presented with the Queen's Award for Voluntary Service. This is the highest award given to volunteer groups across the UK for outstanding work done in their local communities by groups who volunteer their own time to enhance and improve the lives of others.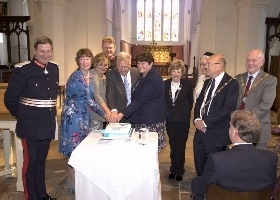 The Award was created by Her Majesty in 2002 to celebrate the Golden Jubilee of her coronation. The presentation was made on behalf of Her Majesty by Michael More-Molyneux, Lord Lieutenant of Surrey in front of a large group of supporters and volunteers at St.Andrew's Parish Church. It was received by June Tranter, Farnham ASSIST's Manager, who said:
"This has been a wonderful occasion and it is lovely to see so many supporters and volunteers who are able to join us. It coincides with celebrating 15 years since Farnham Assist first started and is an ideal moment to pay tribute to all those who established and then developed the charity. I hope all our volunteers feel that this honour is for everyone and a true acknowledgement of the difference they are making to the lives of older people in our community. Many congratulations to everyone."
The award had been announced at Buckingham Palace on 2nd June 2017. Farnham ASSIST's Manager, June Trantom and the former Manager, Brian Kurton had the honour of attending a Royal Garden Party at Buckingham Palace at the end of May.
Farnham ASSIST is associated with Churches Together in Farnham (please see our "Associates" page). It is an independent Charity.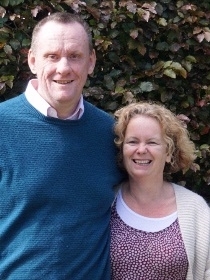 Revd.Graham Culver appointed Senior Minister
at Farnham Baptist Church
The Revd.Graham Culver has been appointed Senior Minister at Farnham Baptist Church.
The Welcome and Induction Service was held on the afternoon of Saturday 7th October 2017 at Farnham Baptist Church, The Hart Farnham GU9 7HA.
Graham Culver has moved to Farnham from Grimsby, where he was Pastor leading Grimsby Baptist Church.
He has succeeded Revd John Ross, who has left Farnham Baptist Church having led the church for many years. John and his wife plan to stay in the Farnham area.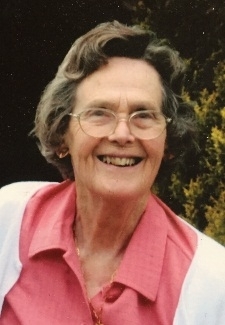 Tribute to the life of the late Rosemary Stephens
We record with sadness the death, on 24th June 2017, of Rosemary Stephens.
Rosemary had a long and varied life, contributing to the ecumenical scene in Farnham in the 1980s and 1990s. In 1986, she founded an ecumenical drama group, the Farnham Interchurch Players.
A Service of Thanksgiving for her life was held at Sway church on 30th June 2017.
The ashes of John and Rosemary Stephens will be interred at the Church of St.Michael & All Angels in Thursley on Monday 18th September at 2:30 p.m. There will be a short service, followed by tea and coffeee in the church. All are most welcome to attend.
Please CLICK HERE to see a fuller account of Rosemary's life and contribution.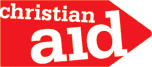 £18,500 collected in Farnham during Christian Aid Week 2017
Thanks to the generosity of the people of Farnham and the surrounding villages, Christian Aid Farnham raised over £18,500 during the week.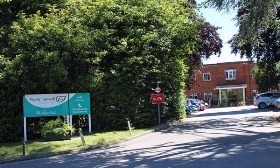 These donations ensure that Christian Aid can continue its work, offering vital assistance to refugees, while also working to eradicate extreme poverty, fight injustice, demand changes in the way tax is paid in poor countries (and at home) and highlight the effects of climate change on agriculture and the wider world.
On behalf of Christian Aid Farnham, Karen Few said: "I would like to say a very big thank you to everyone who gave so generously and a special thank you to the fantastic volunteers who faced very wet conditions out on the streets of Farnham delivering and collecting envelopes and those who collected donations in Farnham town on the particularly wet Saturday. Thank you on behalf of Christian Aid."
In Memoriam ...
Churches Together in in Farnham record with sadness the death of dedicated and committed Christians who have played important roles in our support.
Please CLICK HERE to see recent reports.
CTF Directory
The CTF Directory was updated and re-issued in January 2017. The directory provides contact information for local churches, ministers and Christian organisations.
Copies available to those working with Churches Together in Farnham on application to the secretary. Also available for download by authorised persons — please refer to the "Contacts" page.
h906