Churches Together In Chandlers Ford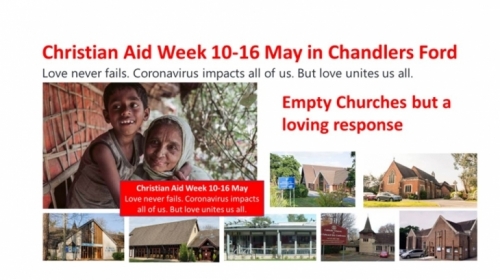 Joint Churches service 10 May
A Joint Chandlers Ford Churches "virtual service" was held on 10 May for Christian Aid Week. If you'd like to see it, or see it again, please click here: CF Joint service joining instructions plus . NOTE: only for watching on unlimited broadband, it's 300GB! A sound-only version is here: Sound-only link.
What's different about Christian Aid Week this year?
Thanks to each one of you who has served in past Christian Aid weeks by collecting or in events such as Big Brekkie. This year is going to be somewhat different, and the need is greater than ever!
Please visit Christian Aid's website: here for Prayers, services, quizzes and fun activities throughout the week for all ages, plus a chance to donate and send a Christian Aid e-envelope to friends and contacts: Here
And please join in Chandlers Ford activities, including ....
Local Photos Quiz
Take part in a Local Photos Quiz, identifying local places which may already be familiar or which you may spot if out on daily walks… with hints for those who can't get out: here by clicking the link below
Chandlers Ford Christian Aid Week 2020 Photo quiz v2
There's a chance to win a prize hamper of fruit and fair trade goods. No charge for entry, but donations welcome.
Please circulate it as widely as possible - not just within the churches. It's our main chance at involving all those marvellous people we usually meet door-to-door or at the Big Brekkie.
Giving
Donate at the Chandlers Ford JustGiving page, here
And lots more
See everything that's going on in the Chandlers Ford Newsletter here below is the link.
CF Christian Aid week 2020 Newssheet 3 May
Worship during Coronavirus
During the restrictions in place to stop the virus spreading, Churches in Chandlers Ford are united in prayer and are rising to challenge of finding new ways of being a Church Community. All are seeking to support those in need in their churches and in the community and encourage you to join from home in a variety of forms of shared worship.
Here are ways you can take part.
St Boniface and St Martin
There will be a livestream service each Sunday at 10am on facebook. The service can be found on our facebook page facebook.com/parishcf or linked on our website www.parishcf.church Also, on the website there are resources for children, families and individuals to help us maintain good spiritual, mental and physical health.
St Francis Valley Park
Also plan a 'Virtual Service' each Sunday and on Wednesday evenings using zoom software . There is a link to this through the facebook page, 'St Francis Valley Park' or please email for information about how to join in. Video of the services is also available form a link on the website at https://www.stfrancis-valleypark.org.uk/
United Reformed Church Chandlers Ford.
Will be joining with their sister church, Avenue St Andrews in Southampton who have a live service each Sunday, then also available on YouTube from their website https://asaurc.org.uk/
Chandlers Ford Methodist Church
There will be a service sheet produced each week for a shared act of worship to follow at home. It. It includes a link to a sermon and to worship songs on YouTube and suggestions for prayer. This resource and others are available from the Winchester Eastleigh and Romsey Methodist Circuit website: https://www.wermethodistcircuit.org.uk/
St Edwards
The Catholic community at St Edward's in Chandlers Ford through the parish church at Holy Cross in Eastleigh has a daily Mass broadcast online through the parish website from Holy Cross Church at 9.30 am http://www.stswithunwellsparish.org.uk and a Sunday Mass at 10am.
Velmore Church
(Waiting for Information)
Telephone
023 8057 1414
Website
www.velmore.org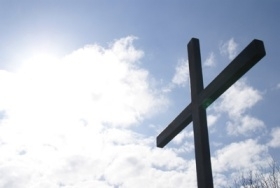 Welcome
Churches Together in Chandler's Ford (CTCF) is an ecumenical grouping of churches in the Chandler's Ford and Valley Park areas in the south of Hampshire. The purpose of this website is to introduce you to these churches and provide details of events that are being arranged by or in conjunction with CTCF.
Feel free to explore the website to find out about the churches in our area and to see what's going on.
Many Churches, one purpose*
There are many different Christian churches and denominations, but all have the same basic calling: to worship God, to share the good news about Jesus Christ and to work for the good of all people.
So they often need to work together - and to co-ordinate the work they each do separately. When they do, they are acting as "Churches Together".
But being Churches Together means more than that. It means commitment by each church and denomination to deepen its fellowship with the others, and - without losing what makes each interestingly different - to work with them towards a greater visible unity.
*Quote taken from the Churches Together in Britain and Ireland website
Statement
In the upper room on the night before the crucifixion, our Lord Jesus Christ prayed
"That all of them may be one, Father, just as you are in me and I am in you. May they also be in us so that the world may believe that you have sent me".
John chapter 17 verse 21.
We, the followers of our Lord Jesus Christ, are pledged to pray and to work to this end through the Churches Together in Chandler's Ford whose basis is:
"A fellowship of churches which confess the Lord Jesus Christ as God and Saviour according to the scriptures, and therefore seek to fulfil together their common calling to the glory of the one God, Father, Son and Holy Spirit."